Two years ago, as published on the Royal Canadian Geographic Society's web site, this was the news of the day across the country:
"There are more than 450 species of birds across Canada, but until now, not one of them has been designated as our national bird. In 2015, the team at Canadian Geographic decided it was time to change that, and founded the National Bird Project with the aim of declaring an official bird for Canada by 2017, the 150th anniversary of Confederation."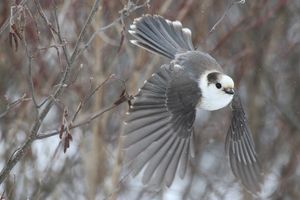 Only hours ago, the results were announced:  

"We give you the gray jay. Also known as the whiskey jack or Canada jay, it is Canadian Geographic's official choice for National Bird of Canada."

All those years ago when my partner and co-founding member of Whiskey Jack, John Hoffman and I conspired to name our new musical group, we threw a few ideas around but the one that continued to resonate with us was Whiskey Jack.  The reasons had a lot to do with the traits that John and I shared with this bird...sassy,  glib, irreverent, tricky, daring, tough (they breed in February for God's sake), noisy, smart as hell and curious.  

When I think of how our music and onstage persona developed over the years, it's clear we were guided by the traits common to this great Canadian bird.  I hear it in our music.  For example, no other bluegrass "organization" (as Bob McAdorey used to call us) of the day would have made Skin & Bones their signature song.   Many of these traits are also there for all to see in old TV interviews we did with Alan Thicke, Ralph Emery and others.  

It's a great day at Whiskey Jack Headquarters.  We will be giving the staff an extra long lunch hour.