Recently, I did something I should have done years ago.  I became a card-carrying member of the Royal Canadian Legion.  I'm a proud member of Branch 10, 1083 Pape Avenue, Toronto, On.

I once was a long time member of the Naval Club on Hayden Street in Toronto but I let that membership lapse.  For that I'm sorry.

To commemorate my new membership, Whiskey Jack is formally adding a Canadian Armed Forces segment to our Stompin' Tom show.  It's based on Tom's song, Blue Berets.  We recorded this song with Tom in 1993.  To promote the song, a lavish and expensive video was produced.  When it was complete, Tom called up and asked me to come to his house to watch TV.  Well, not really.

One Sunday afternoon, I walked into his "office" and was greeted warmly.  In fact, there was a glow in his smile. This sometimes happened when there was something in particular he was excited about. For example the afternoon we sat at his bar sipping a beer when when he told me of meeting Farley Mowat (the story is in my book, My Good Times With Stompin' Tom).  He was almost giggling when that story was being told.

On this day, he said, "come on upstairs.  I have something to show you."  That was highly irregular.

We entered the large living room in his modern side-split outside Georgetown.   I was directed to "sit on the couch".  He proceeded to walk across the room to the TV, grab a VHS from a shelf and after some fiddling around, inserted the tape.  This took a bit of time.  He was obviously unfamiliar with the technology but he was determined to do it himself. I heard the machine receive the tape.  He returned to his chair and the screen came alive.

This was my first time viewing the video.  I obviously knew this version of the song well.  I had played banjo and sang on it when we recorded Dr. Stompin' Tom…eh? a few months before.  But there was something different about it.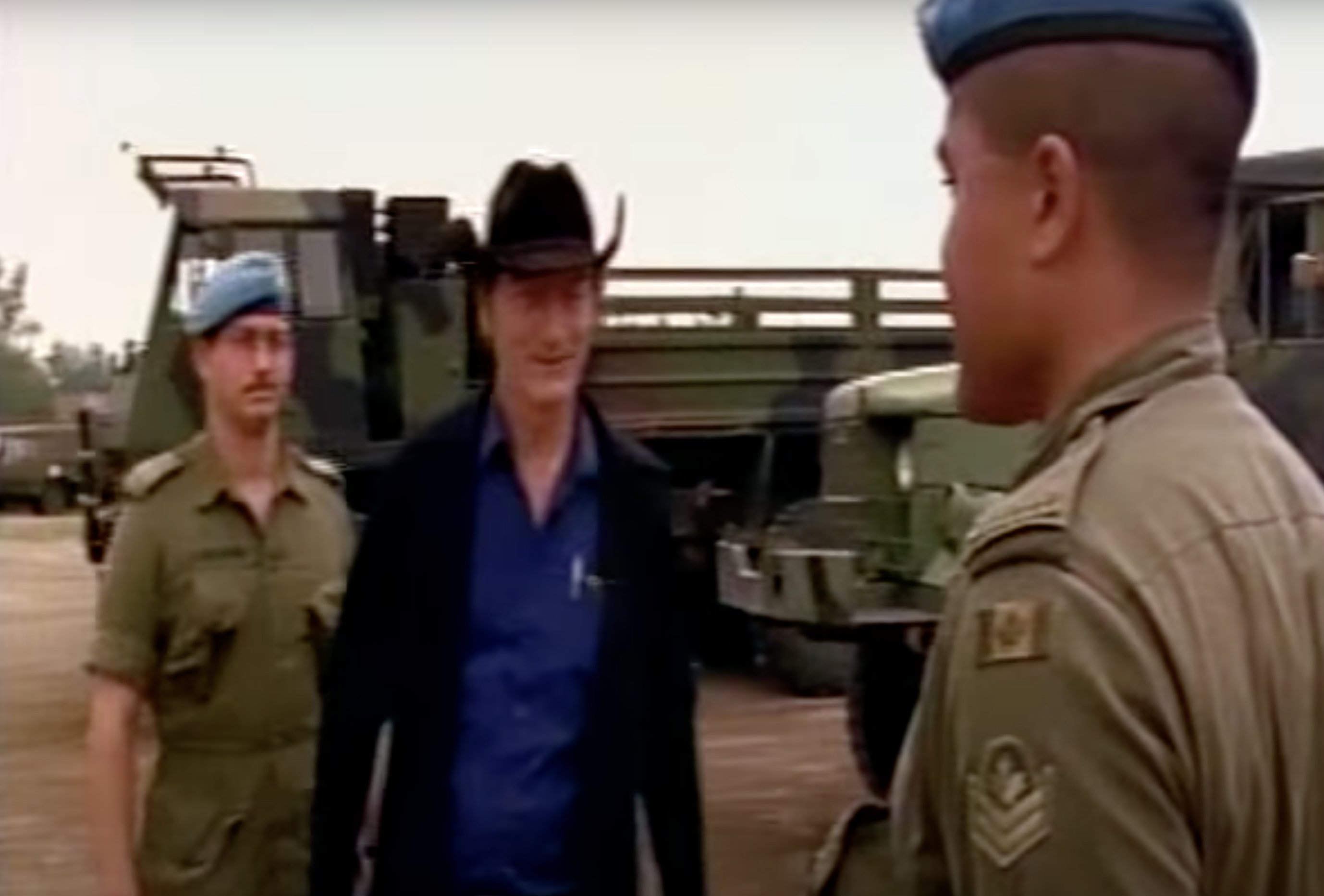 "Did you notice" asked Tom.  "Can't say that I did Tom" was my reply.

"I had Brian Hewson (the recording engineer) double up your banjo solo."

I was blown away by this.  He liked what I played so much, they duplicated it so that my 8 bar solo played back-to-back.
  
That was quite a moment for me, as a banjo player, as a recording artist and as a friend of Tom Connors.  That story is also in my book.

Now, in 2023, my show, the one featuring the songs of the Stompin' Tom Connors and the stories that followed me around during my time with him, is still going strong.  I had thought about writing a Legion feature before but the time never seemed right.  There were other themes and personal experiences that took precedent. Now it the right time.

We've added a Canadian Armed Forces story line to our show and it will be featured in all of our performances moving forward.  This will be built entirely around the song, Blue Berets.  I will sing it and I will play the solo Tom liked so much, note for note.

And now that I'm a paid up member of the Royal Canadian Legion, I can sing it with feeling.