Good day and good health to everyone. Here at Whiskey Jack headquarters, we continue to "keep the faith" and are planning live music events this spring/summer/fall. However, there's one little glitch. The business of live music as we knew it is over.
There is no one, neither fans or industry people, who knows what live music will look like in the years to come. So, we ask for your help in shaping this future by offering suggestions on where we can play and how we can do this safely. We invite everyone, fans and presenters alike, to join us in "thinking out of the box".
Whiskey Jack is well positioned to take the lead in this. We can be a small unit (Doogie and Dun), a large unit (Whiskey Jack) or an orchestra (Whiskey Jack Presents Stories & Songs of Stompin' Tom). We can play with a PA (either our own or otherwise) or we can play with no PA. The crowd can be small or enormous.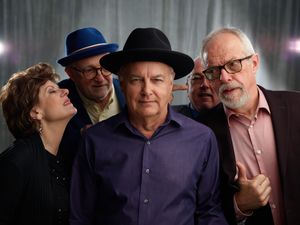 I don't think we're going out on a limb to say, in 2021, these performances will be outdoors. In the meantime, we continue to write and record. Our guitarist/vocalist Douglas John Cameron has been a prolific creator of new music most of his life. He's an ironic fellow, famous for his great song, Three Chord Johnny. The irony lies in his other songs, all with "many chords". So, to honour his penchant for chords, I wrote and filmed this salute to him. It's called, of course, Too Many Chords.