Friends, family and fans of the late Bob McNiven have come together to sing and have fun with Bob's most popular Christmas song, "Underneath The Christmas Tree".
Stay for the out-takes.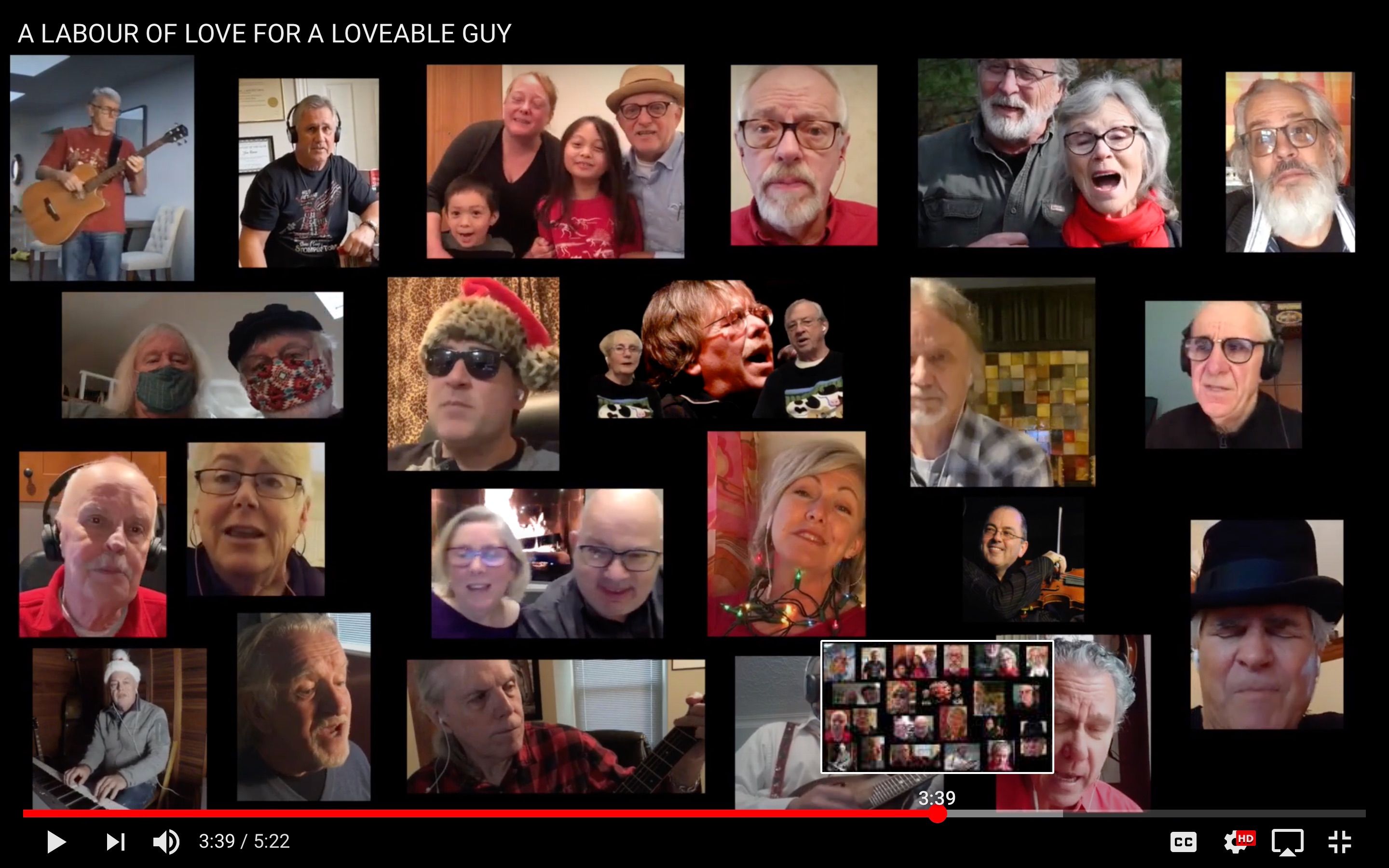 Featured in this video, in no particular order, are:
Howard Willett - Bob's right arm, best buddy and musical partner as singer and harmonica player, one half of that great duo, Roots and Branches!
Wayne Derby and Chris Saunders - members of one of Bob's earliest bands, Derby, Saunders and McNiven;
John Hoffman - Bob's musical partner on The Tommy Hunter Show, on many recordings/cross country tours and sometimes yin to Bob's yang,
Conrad Kipping and Tim Hadley, Bob's bandmates and good pals who helped him survive the smoke/beer and debauchery on a few Stompin' Tom Tours;
Randy Morrison, Eric Jackson, Al Cross, Jen Cook and Jim Bain...Bob's great friends and bandmates who shared the stage with him on his last tours, contributing so very much to his most endearing performances as part of the Whiskey Jack Stories & Songs of Stompin' Tom show;
Rob Whitehead, Whiskey Jack's bass player/singer and very great friend for much of the Arlene Zock/Bob McNiven years;
Helen Stewart - local singer/songwriter celebrity who joined up with Bob for many classic performances, a vocal union enjoyed by many in Toronto. What a team they were!
Sam Grosso - Much loved proprietor of the sorely missed Cadillac Lounge, location of many Bob McNiven performances...enhanced by the occasional shot of Sam's best tequila!
Bill Heffernan and Dave McManus - These two legendary musicians, storytellers and songwriters were by Bob's side, on stage and off, for much of his last few years. Another of Bob's great collaborations.
Wendell Ferguson - This award winning Canadian country music legend added his guitar stylings to Bob's music often over the years.
Lucas and Caleb Choi-Fremlin and their mom Erin join grandpa Dunc for some good old fashion silliness. Erin was born shortly after Bob joined Whiskey Jack so knew him her entire life.
Barb and Brian - There are many fans of Bob McNiven but few as loyal, devoted and loving as Barb Ross and Brian Crockatt. Bob would always ratchet up a notch when they were in the audience.
James Gilbert began stalking Whiskey Jack shortly after Bob joined the band in 1980. His affection for Bob, his songs and the Whiskey Jack vocal stylings has endured for over 40 years. He's joined in this video by his barbershop quartet mates, Peter Marchina, Andre Reiter and Rob Siddall.
Steve Goldberger - for many decades, Steve has been the leader and driving force behind the award winning band The Niagara Rhythm Section. Bob hit the QEW many times over the years, sometimes accompanied by Duncan, Arlene Zock or Howard Willett, to perform many songs from his extensive catalogue.
Gary Beechey and Deborah Grover - Whiskey Jack's official photographer Gary Beechey and his very talented partner, award winning Canadian actress Deborah Grover joined forces to add much charm, love and playfulness to this project.
Cathy Ledden and Bill McLean - These two very close friends of the McNiven family have leaped out of their comfort zone to sing a duet version of Bob's song....with much love!
Carol Ledden - This fine lady was by the side of Bob and his family for many years, right up to the end.