When we're not on tour with Whiskey Jack performing Stories & Songs of Stompin' Tom Show across the country, Duncan and Douglas are making friends and music as a duo. They call themselves Doogie and Dun. Sometimes, with too much time on their hands, things get out of hand.  This is what happens.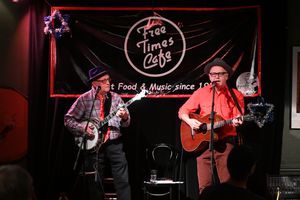 Think of this as a Fantasy League for Canadian music fans..."What would happen if?"
In this case, what would have happened if Leonard Cohen got fed up with trying to write the lyrics for his little ditty, Hallelujah, and he had called his pal, Stompin' Tom Connors for his assistance.
It's called Hallelujah, It's Bud The Spud.  
Photo by Gary Beechey, BDS Studio