Last Wednesday was a monster day in the life of our show.  We were invited to perform the Hockey Song as part of Stompin' Tom's induction into Canada's Walk of Fame ceremony at the Liberty Grand Ballroom in Toronto.  It was a thrill of a lifetime for all of us.
Don Cherry and Ron McLean introduced the segment via video and as we all expected, it was all about "hockey".  We then sang a rousing version of The Hockey Song accompanied by an unbelievably good house band.   We invited "Prime Minister Mulroney, dignitaries and all of the big stars" to join us in the chorus.  We reminded them that Tom was listening and since he was 82 years old, he'd be hard of hearing so they'd have to sing loudly.
The next segment was a montage of videos and photos describing the legendary accomplishments of Stompin' Tom.  
Duncan then walked to the podium and invited Tom Jr. and Taw Connors to come to the stage and receive the star.  Here was the draft of his introduction: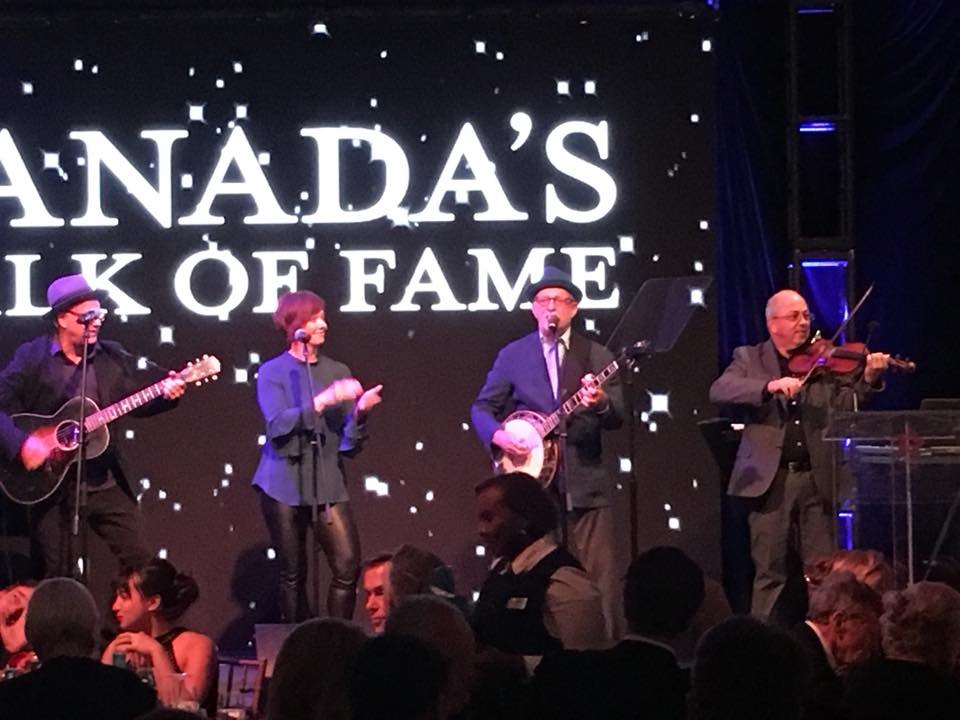 "It is a great honour for myself and the band to be here this evening, to celebrate this great Canadian showman. 
I got to know Tom and his family on my first cross country tour with them in 1990. We became fast friends. Lots of music played with Tom Sr and lots of hockey with Tom Jr.  Now, I get to share the stage from time to time with Lena. 
Over the years, Tom would often call me to bring the band up to the house and play for parties – and we would. 
Five years ago when Tom died, the family gave me the honour of licensing the band to keep the memory of Tom alive through his songs and stories. We now travel the country to make sure that people continue to remember the man and his music. 
As we all know, his music lives on – in every hockey arena, every Karaoke night in every pub in the country – and now that memory will be amplified because of his induction here tonight. 
So, Tom Jr and Taw, please come on up and accept Tom's star!"