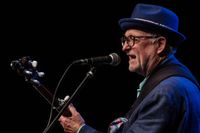 Duncan Fremlin, one of Canada's premier banjo players, decided in 1977 that life as a full time musician in Canada seemed like a brilliant idea so he promptly quit his day job and began a seemingly endless tour of Canadian musical venues.  As Whiskey Jack's leader and raconteur, he's welcomed an untold number of musicians into the Whiskey Jack fold over the years.  After 40 years, this band is still going strong and performing some of the finest music in its history.  Photo by Norm Betts.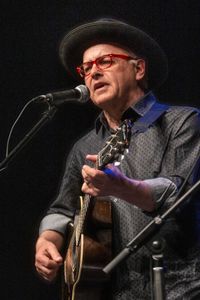 Douglas Cameron has been a successful member of the Canadian music community since the 1970's.  He gained fame and notoriety with his song Mona With The Children (True North Records) in 1985.  He received a Juno nomination for Most Promising Male Vocalist of the year in 1986 again in 2000 for Children's Album of the Year.  His theatrical and dynamic approach to performing, coupled with his talents on many instruments adds a high degree of professionalism to this already dynamic show.  Photo by Norm Betts.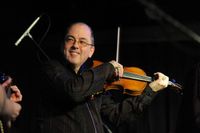 Randy Morrison first stepped on stage with Whiskey Jack to help mark their 30th anniversary. Since then, he has won the prestigious Canadian Bluegrass Award for fiddle player of the year five years running. That's what we call a virtuoso!  This premier fiddle player combines the sounds of legendary players like: Ward Allen, Don Messer, Al Cherny and Graham Townsend. Randy has performed with top country artists such as, Gordie Tapp from TV's Hee Haw, CBC Television's Bluegrass Band "Whiskey Jack" and Canada's polka king and Grammy award winner Walter Ostanek.  Photo by Gary Beechey.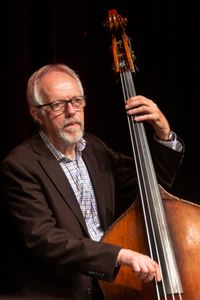 Eric Jackson has been a  mainstay in the double bass community in the Canadian music scene since the early 1970's.  Well versed in all styles of music, his musical portfolio includes the Humber River Valley Boys, Terry Sumsion, Swing Street and now Whiskey Jack.  Eric has been a friend of Whiskey Jack for many decades now and they're thrilled to have him on board.  Photo by Norm Betts.
It's with a very heavy heart that we pay tribute to a man who was one of our great pals, on stage and off.   Bill Carruthers (1952-2019) was a great musician, a father, a husband and a friend who performed with us up until his death .  There are few Canadian musicians who can produce a CV that includes a life long career as a drummer and singer (Family Brown, Terry Sumsion and more), as a manager (The Good Brothers), as a booking agent (Casino Rama) and concert promoter (Rocklan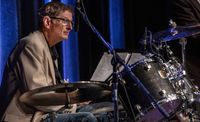 ds Entertainment). .    Photo by Norm Betts.