Our annual Stompin' Tom Birthday Celebrations have offered a lot of highlights since we began in 2014 but the one that stands out in my mind was the second in 2015.  After our chaotic but highly successful first concert in February 2014, we didn't know what the next one would look like.  I knew it had to be big!
I called the Rt. Hon. Adrienne Clarkson and asked if she'd be our guest.  She immediately said "yes, I loved Tom".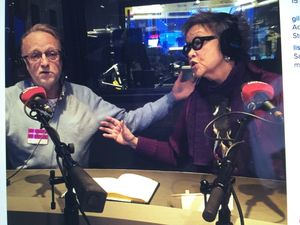 I called Sam Grosso at the Cadillac Lounge and asked if we could host it there.  He immediately said "yes, I loved Tom".
What followed was a storybook tale involving front page coverage in the Toronto Star, a live interview/performance on Gill Deacon's CBC afternoon show, Here and Now, a film crew recording the first set and an absolutely jam packed crowd....fans were sitting and standing everywhere. 
We began the night with this song and each Whiskey Jack band member stood up and described what their Canada looks like. 
Guests that night were Douglas John Cameron, Mickey Andrews, Mary McIntyre, Steve Fruitman, Tom Jr., Lena Connors and of course, The Big A, Adrienne Clarkson.