Make no bones about it. If you're looking for a show that will appeal to your audience born before 1979, call Duncan and ask about available dates for "Stories & Songs of Stompin' Tom"!  John Miller from Stratford Summer Music calls it "one of the most entertaining all Canadian shows on the circuit".  It features Whiskey Jack, Stompin' Tom's touring band and stars of The Tommy Hunter Show (CBC-TV).  Sure, some youngsters are often spotted in the audience, but most of them are pushing wheel chairs. They laugh and cheer with everyone else.
What to watch for as they begin to fill dates for their 7th touring season:
- some dates available in 2020/2021 will include Canadian stars, comedian/author/actor/singer Sean Cullen and Cindy Church;
- new all Canadian romp through the Snow Bird set list... stories and songs by the "Two Toms" (Connors and Hunter), Gordon, Anne, Wilf, Ian and more;
- special medley written for the hitchhiking generation that thumbed their way back and forth across the country, when it was fashionable and possible.
- as always, supported by country/roots band Whiskey Jack (now in their 43rd year) and their all star line up of award winning musicians and singers;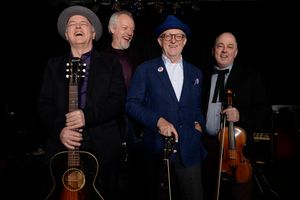 We reflect on a few of our 2019 highlights...
- 6th annual birthday show at Zoomer Hall in Toronto with guest Gordon Lightfoot (broadcast live on AM740 and 96.7FM);
- Canadian country music caravan tour of Northern Ontario with The Good Brothers and Russell deCarle (Prairie Oyster);
- first Koerner Hall appearance (thanks Moses Znaimer);
- a tour of Nova Scotia and New Brunswick (including the deCoste Centre in Pictou);
- released a new CD (Rhymes and Good Times) produced by Juno Award Producer, Danny Greenspoon;
- hosted fundraising concert to help revitalize the historic Wingham Town Hall Theatre;
- published second edition of Duncan's book, My Good Times With Stompin' Tom...and
- standing ovation from 600+ fans at the storied Sanderson Centre for the Arts in Brantford (part of their 100th anniversary celebrations).
This is not like any other show. It's the real deal! The performers on stage were there when it happened.