On February 10, Whiskey Jack was basking in the glow of what by all counts was the best Stompin' Tom birthday celebration to date. Planning has begun for next year - count on something special. Imagine celebrating Canada's 150th birthday with the songs and tales of Stompin' Tom, the troubadour who so eloquently wrote and sang about this great land.
But first, we thank the capacity crowd at Hugh's Room who roared and cheered and clapped for every song, every story and every guest. Their exuberance was contagious.
The magic in the room was apparent from the beginning when The Right Honourable Adrienne Clarkson took to the stage to introduce Whiskey Jack. "The" Whiskey Jack (as Tom affectionately called us) told the story of Margo's Cargo, the tale of PEI's own Bud The Spud and the poignant love affair between a potato and a tomato (The Ketchup Song). The crowd loved Steve Fruitman's Tom story "this beer tastes like piss", followed by Douglas Cameron's tale of an imaginary Leonard Cohen, kd lang Stompin' Tom collaboration in Timmins. We even had some good old Canadian poetry as Adrienne recited a few lines about "girls are out to bingo, boys are getting stinko" before belting out Sudbury Saturday Night.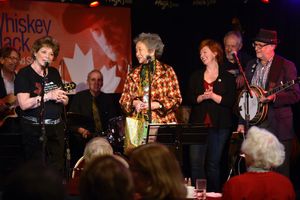 When JP Cormier came to the mic, the crowd was hushed as he told them how his life changed when he became a member of the Connors musical family in 1990. Then he took us on a very emotional ride through Little Wawa, a Stompin' Tom song that has been present in his life for over 25 years. He ended his set with his self-penned tribute song, House of Plywood. There wasn't a dry eye in the house!
Then, as JP was unplugging his guitar, he looked over to see another of his heroes. Gordon Lightfoot was making his way to the stage with his famous 1961 Martin guitar in hand. Yes, the man who has left an indelible mark on pretty much every Canadian born in our generation was there to pay tribute to his old pal, Stompin' Tom. We were entranced as he told us of his time at Tom's house (in Tom's own bar) drinking beer and telling tales. The flash cameras and social media postings got a good workout before he returned to his seat...everyone on their feet shouting their appreciation.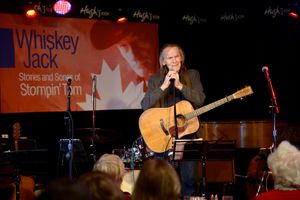 Just as we all thought it couldn't get any better, we were treated to Lovely Lena Connors as she joined our very own Jen Cook on a beautiful duet that she and Tom often sang at their kitchen parties...The French Song.
It was Adrienne's birthday the day after Tom's, so as the cake was carried in, the crowd joined in on Happy Birthday Dear Adrienne. We brought out "the plywood" for the Hockey Song and everyone left for home with a smile and cake icing on their face.
The next day, we woke up to emails and Facebook postings......"fabulous show", "truly memorable", "amazing evening", "unforgettable celebration" and on and on. For more photo highlights, click on the photo icon at www.whiskeyjackmusic.com.
All photos by the one and only Gary Beechey, the photographer with a twinkle in his eye.
Dave and Adam Ferri and their crew from Orchard TV filmed the evening. Video highlights will be available on our web site soon.
Thank you for being such great supporters of all things Whiskey Jack, Duncan, Bob, Howard, Eric, Jen, Randy and Al