Below you'll find the press release that was published this week.  Tom Jr. told me this was in the works a few weeks ago but it was only finalized last week. Tom's old label, Universal Canada is still in the family.  They will be distributing the CD's.   

Part of the deal will be the production and release of a compilation CD featuring Canadian performers singing a Stompin' Tom song.  Whiskey Jack is very pleased to learn that we will be included in this package.  In fact, Andy Curran (in the photo) has already emailed me to arrange a meeting.  I'm very excited to discuss some possibilities with Andy.  After touring with our Stories & Songs of Stompin' Tom show for over 3 years, we have a lot of songs and ideas that we're eager to share with Ole.  
TORONTO, ON - ole, the world's fastest-growing independent music publishing and rights management company, announced today it has signed an exclusive, worldwide 360 deal to curate the music and personality legacy of iconic Canadian artist Stompin' Tom Connors. Under the deal, ole will manage publishing and master distribution rights, Connor's YouTube presence, merchandising and trademark licensing rights.

"We're very proud to be entrusted with the legacy of one of the greatest, Canadian artists of all time and we look forward to the opportunity to broaden the audience of Stompin' Tom's iconic music and personality in the years to come," said Robert Ott, CEO.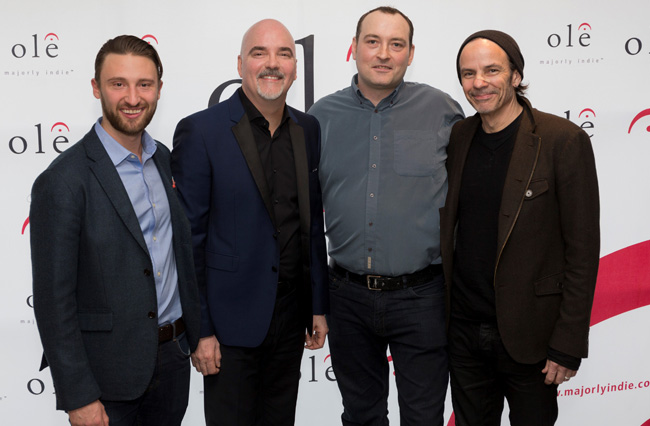 From left to right: Tyler Hurst, Senior Acquisitions Analyst, ole, Robert Ott, CEO, ole, Tom Connors Jr., Andy Curran, General Manager, Label Services A&R, ole
Connors, hailed as the unofficial Canadian poet laureate, is credited with writing more than 300 songs with total sales in excess of 4 million copies. With his homespun and fiercely patriotic brand of music, Connors rich musical legacy includes Canadian country chart topping hits "Bud the Spud", "Luke's Guitar", "The Bridge Came Tumbling Down", "Sudbury Saturday Night", "Big Joe Mufferaw", "Ketchup Song" and Canadian anthem "The Hockey Song". Connor's accolades include JUNO Awards for Best Male Country Singer (1971-75) and Country Album of the Year (1978), the East Coast Music Awards Lifetime Achievement Award, SOCAN National Achievement Award (1999), SOCAN Lifetime Achievement Award (2009), the Governor General's Performing Arts Award (2000), Toronto Musicans' Union Lifetime Achievement Award (2011), and was the subject of a postage stamp issued in Canada Post's recording artist series.

"The Connors family would like to thank ole and its staff who have been nothing less than sincerely excited and most helpful in working with us to bring Stompin' Tom and his great Canadian music to their organization," said Tom Connors Jr. "They have shown us the same top notch level of professionalism and courteousness that we had been accustomed to over the decades. We look forward to this new relationship where ole, along with Stompin' Tom, during his own 50th anniversary, will help celebrate Canada in song to the world during its own 150th celebrations this year and beyond."