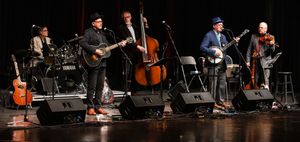 Since our very first show on February 9, 2014, we've sung our songs and told our tall tales to Canadian music fans in more than 100 theatres, fairs and festivals. This celebration of Canadian music is called Whiskey Jack Presents Stories & Songs of Stompin' Tom. Our playlist defines us as a nation.
All of our tours with Stompin' Tom were designed to reach as many Canadians as possible. They included towns, communities and cities of all shapes and sizes. That's our goal for 2020 and 2021. This message is to let you know that we have a show, specific to your town or community, big or small. Do you know of a local organization, church, service/community group that might like to work with us on a show? Perhaps a big Stompin' Tom concert in their community could be used to raise some much needed funds for a specific project? For example a new roof on the local community centre? Please pass this invitation on to them. We welcome their call.
You can ask for the big show, suitable for larger theatres and halls. It might include country music stars Marie Bottrell, Russell DeCarle or maybe Cindy Church. They've all guested with us in the past. We also offer a smaller, more affordable stage show starring Whiskey Jack, a long time Stompin' Tom back up band. Both shows are the real deal. These Canadian all star musicians tell the real stories...because they were there! We've performed in Legions, churches, theatres of all sizes, community halls, schools, house concerts, fairs, huge music festivals and more. We can provide sound and lights and ticketing as needed.
You're receiving this because you've either attended a show, hired us to perform, bought our CD's, read Duncan's book, "My Good Times With Stompin' Tom" or simply connected with us on social media asking "when are you coming to our community?" Our show can be customized to accommodate all regions of the country.
This is the only show licensed by the Connors family and Tom's record label, Anthem Entertainment.
For a list of future shows and details on how to purchase our music and book, please visit www.whiskeyjackmusic.com And if you want to enjoy 22 minutes of good old fashion Canadian music, check out our most recent Youtube video filmed on June 21, 2019 at Koerner Hall at the Royal Conservatory of Music in Toronto. Our guests were Prairie Oyster's Russell deCarle, 5 time Canadian National Fiddle Player, Randy Morrison and 8 time Juno nominated country music star, Marie Bottrell. Before you click on this link, turn up the volume.
We hope to see you at one of our shows real soon.
Duncan, Douglas John, Randy and Eric